Our happy clients
What they say about us
Greg & Mary Moga (Seattle, U.S.A)

"Kaz is a lion of a safari guide! He is a terrific educator and naturalist, and more than that, great company in the bush. We recommend Kaz without reservation."
Luke Proskine (San Francisco, Califonia)

"I had a fantastic safari with Kaz as my guide. He is incredibly knowledgeable and willing to go the extra mile to make sure each guest leaves with the best possible experience. I vividly remember when Kaz took me on a walking safari and positioned us about 15 meters from a pack of wild dogs as the sun was setting. I will never forget how magical that evening was…thanks Kaz!
Alexi Zekas (Washington DC, USA)

With the knowledge of an Encyclopedia, the astuteness of the animals themselves, and a charismatic enthusiasm for showing his guests life in the untamed bush, Kaz Dube and his team bring you closer to Africa's nature like never before.
LTC Joseph E. (Ed) Williams (U.S. Army, Cavalry)

Kaz Dube is the best guide my wife and I have experienced during several safaris in Africa! His in-depth knowledge of both flora and fauna is exceptional! My wife and I plan to use his services again, we wouldn't choose anyone else!
Paul Conibear (Toronto, Canada)

Kaz was our host and guide and we were amazed at his knowledge which he shared with us of nature - animals, birds and the surroundings. His ability to spot game was incredible, and his walking safaris are his specialty. We have been to many wildlife safaris over time but being out with Kaz was a special experience, and we highly recommend him.
Tim Mordaunt & Sue Weterings (Palmerston North, New Zealand)

Myself my partner Sue and six other friends had the pleasure of having Kaz as our guide. We have travelled in Africa extensively enjoyed many safaris however Kaz is without doubt the best guide, the best expert, the most stimulating and interesting person we have encountered. We learned heaps, we were safe, we were challenged and we had fun. Kaz is a special person and all who experience his safaris will find the experience very special. We could not recommend him more highly.
Suzanne and Stuart (Bermuda)

For those looking for the ultimate African safari, nothing can beat walking. The critical component, however, is the guide who makes the difference between an okay experience and an exceptional one. Having travelled with Kaz Dube, I can easily say he is a guide who will give you an outstanding safari. The slogan of his company is "stalking and approaching wildlife to capture photos and memories" which is exactly what we did the first afternoon we headed out with Kaz, creeping up on a pack of wild dogs, and then sitting amongst them for half an hour. On foot, it's not just about the big things. The little things are just as fascinating, and Kaz is a fount of knowledge on everything you will discover in the bush. Not satisfied with just pointing things out and telling you what they are, Kaz makes you think about them and as a result, you come away knowing so much. As well as being hugely knowledgeable and highly experienced, Kaz is a lovely person with whom you will enjoy spending time. No detail is too small – he thinks of everything to make sure your experience is a memorable one. After many safaris in Africa, both in vehicles and on foot, Kaz definitely provided an unforgettable walking safari that rates amongst our highlights.
Howard Morley (Auckland,New Zealand)

After visiting 5 different game parks in various African countries. It became very clear that without a guide who cared about what he did and understands the link between animal behavior and the environment any safari experience would not be complete. Without a doubt Kaz is the most informative professional guide I met up with. Great depth of knowledge that he shared willingly in a friendly easy to understand way. If you get the opportunity seek out and go with Kaz Dube
John Sisley (New Zealand)

As a guide Kaz has no equal that I am aware of. His ability to impart his knowledge of the African bush in a manner that stays with you long after the journey is over is incredible. I have been on many safaris but a few hours walking with Kaz taught me more about all aspects of the surrounding flora and fauna than I ever thought possible. A truly unique and wonderful experience that comes highly recommended.
Barbara Gross Managing Director, Sabra Travel (Australia)

"We were fortunate enough to have Kaz as our guide. His guiding, his knowledge and his personal communication skills were all superb. He is fun to be with and made our stay so memorable. I can highly recommend him"
Peter Marley (Kent, England).

"In my many years of safaris I have never had such an experienced and knowledgeable guide. His deep understanding of animal behavior enabled us to get within 20 meters of a pack of wild dogs with curious puppies, and when surrounded by elephants, his calm guidance inspires complete confidence. Kaz has a fascinating knowledge of the entire ecosystem that gives one an immediate understanding of how the tiny details fit into the whole web of life. Thank you Kaz for a great experience."
Lars Nordin (Oslo, Norway)

I have been on safari a number of times, and my favorite guide without exception is Kaz Dube. He has a wealth of knowledge that he presents in an engaging and educational manner. In addition, he has an understanding of the animals that helps put you at ease when walking in the wild. Thanks to him, we were able to sit with a pack of 18 wild dogs and view them closer up than any nature program could ever get you all the while being perfectly safe and protected under his ever-watchful eyes.
James Hopwood (Noosa Heads, Queensland Australia)

Kaz is a guide of exceptional all-round ability and instills a calm and relaxed quality in guests he takes on walking safaris. His knowledge of animals, birds and trees is extraordinary. We would be confident to trust him in any situation which might arise while on a walking safari.
Guy Shutt (United Kingdom)

Kaz, thanks again for showing us the wild dogs and mating lions!!!
Tom Wilson (United Kingdom)

"Kaz is a highly experienced guide with an encyclopedic knowledge of wildlife, plants and trees. He led us with attention on safety and a wonderful sense of humor – we thoroughly recommend him"
Deborah and Ian Law (Singapore)

"Having grown up in Africa we thought we were pretty knowledgeable on African wildlife, however a few magnificent walks with Kaz made us realize just how ignorant we were. Kaz's immense knowledge includes not only the animals but the vast diversity of the birdlife, flora and fauna. Not one of our many questions went unanswered, and not one answer was disappointing. His sincere interest and passion for what he does has sparked a real desire to delve deeper and learn more about this beautiful wildlife. With Kaz you are in excellent and very safe hands and we cannot recommend him highly enough.
Andy Cook (United Kingdom)

To anyone thinking of using Kaz Dube's guiding services I can only say do it. His enthusiasm and knowledge of the African bush is both vast and infectious. He can tell you what's happening all around whether it's plants or animals, from the smallest Lichens to the biggest Elephants. His understanding of the whole ecosystem and how it all ties together kept me enthralled for hours while walking around seeing things I'd only previously dreamed of. Thank you Kaz for a wonderful time.
Christine & Chris Cowell (Australia)

"Kaz is very knowledgeable about all wildlife aspects. He is very personable and one feels very safe with him. Kaz's ability with collective nouns of animals is amazing.
Dr. Jeff Williams (United Kingdom)

"Kaz guided me and my wife on safari. It was a great experience and heightened particularly by Kaz's guiding skills and most pleasing manner. He was a super companion.

OBSERVE WILDLIFE WITH KAZ DUBE IN ZIMBABWE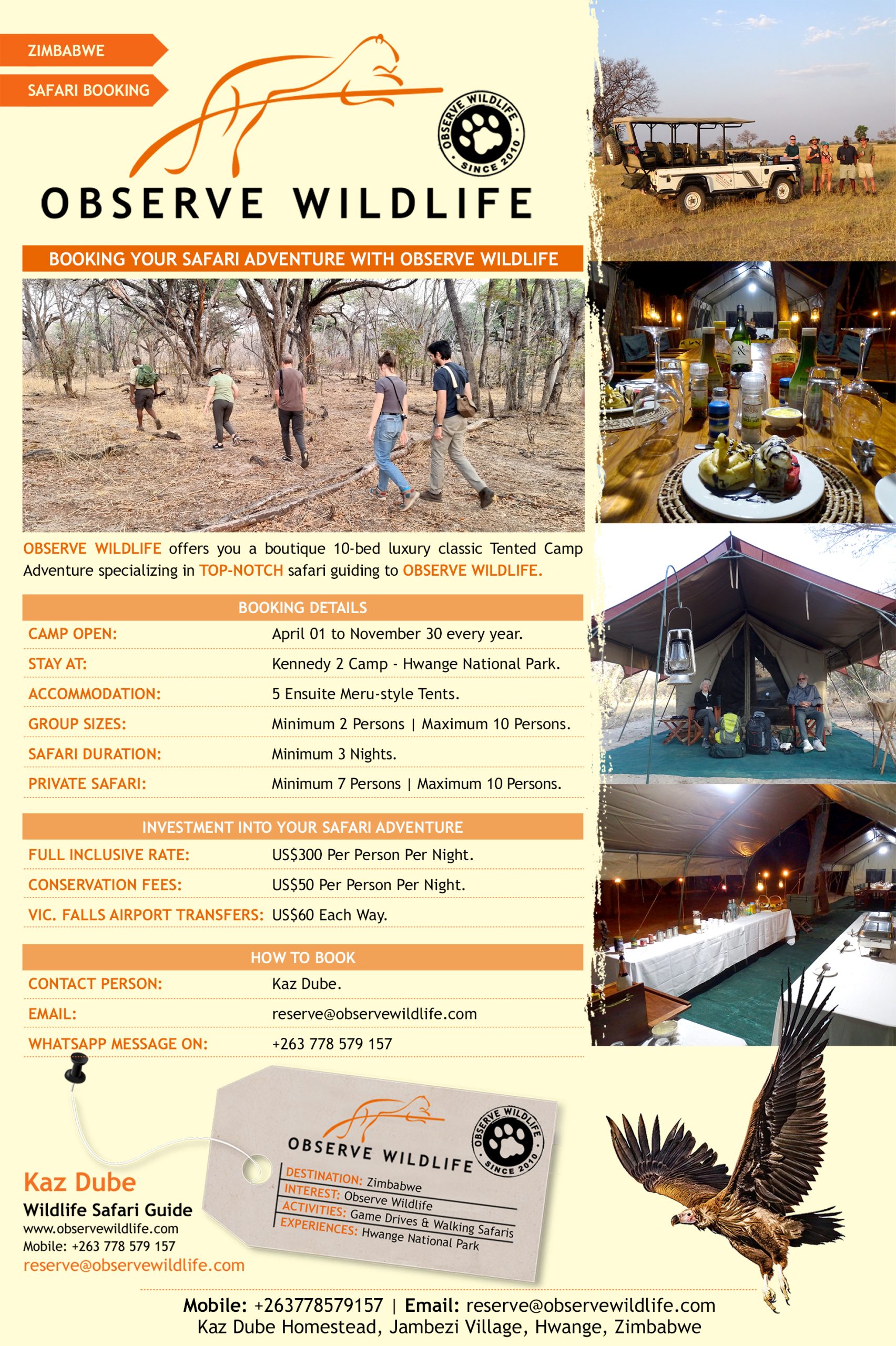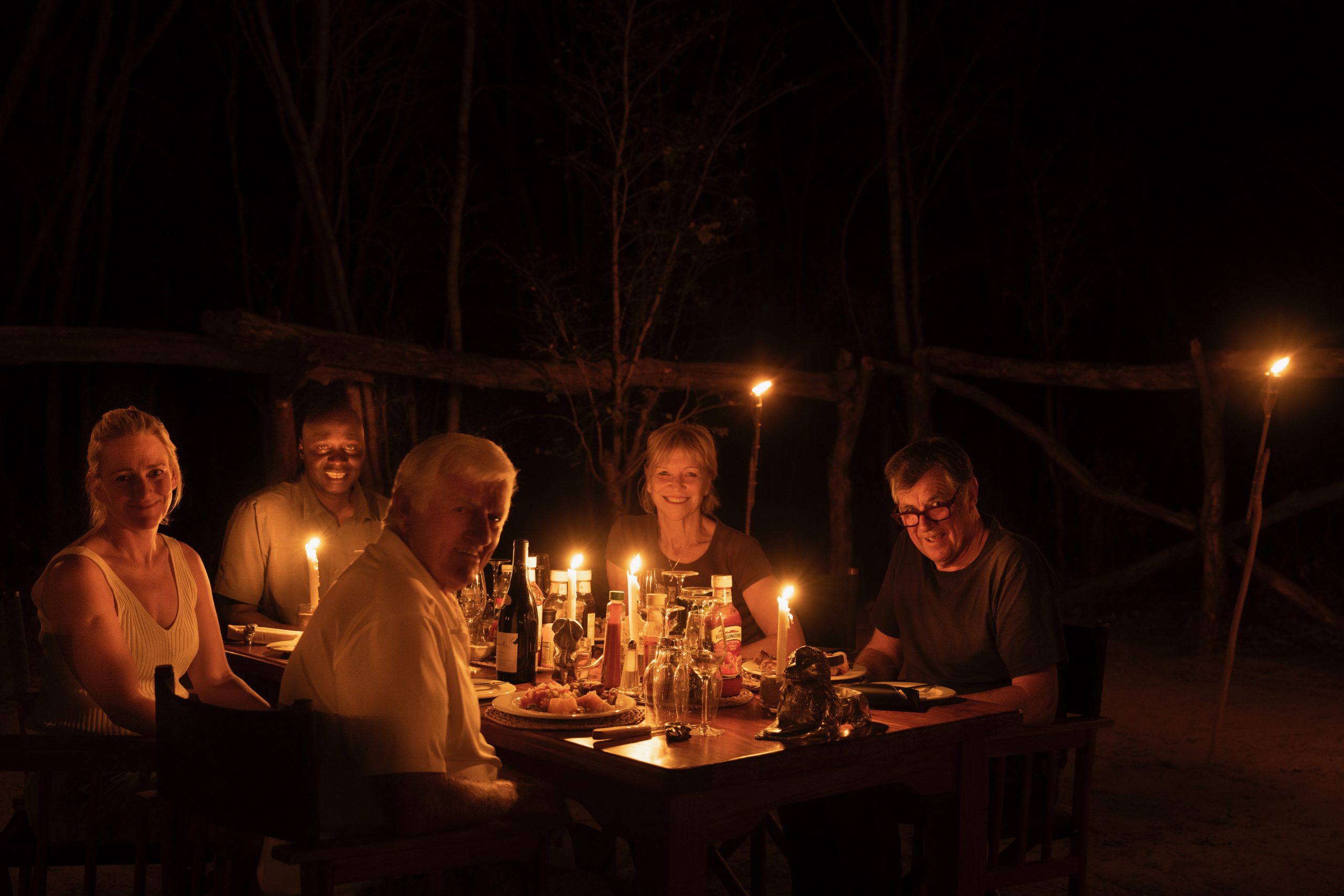 WELCOME TO ZIMBABWE
OBSERVE WILDLIFE is a Safari guide-owned operation that focuses on TOP-NOTCH safari guiding for personalized, exclusive, private and family safaris of small groups of not more than 10 persons to observe wildlife inside the World renowned Hwange National Park. The Award-winning and highly rated Wildlife Safari Guide, Kaz Dube, conducts all the safaris.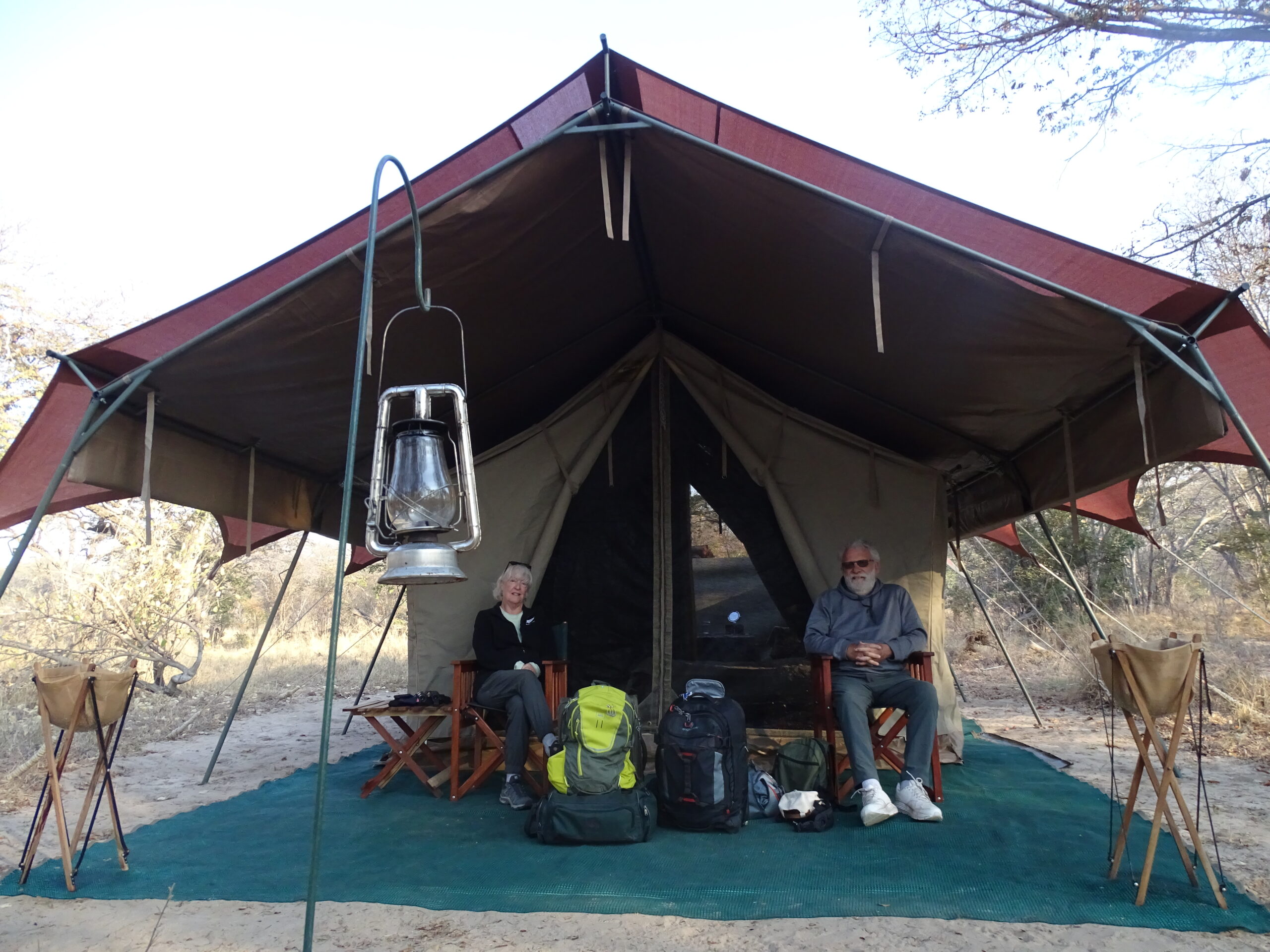 A WILDLIFE EXPERIENCE WITH LOW ENVIRONMENTAL FOOTPRINT
We subscribe to the notion that the value of a true low impact safari is to leave no trace on the environment. We have found that the lowest impact is best accomplished by not putting any permanent infrastructure in pristine wilderness areas. This is why we operate a lightweight low footprint seasonal Meru-style tented camp that maintains and perpetuates a wilderness area to remain truly wild. YOU will stay at our KENNEDY 2 CAMP where we focus passionately on wildlife immersion, remoteness, exclusivity and the experience to observe and photograph wildlife which is worth more than luxurious bells and whistles.

GIVING YOU A UNIQUE GUIDED WILDLIFE SAFARI EXPERIENCE
Kaz Dube is a talented Wildlife Safari Guide. He will create the magic for the 'real deal' wildlife experience in a remote area by getting you to observe wildlife and interpret the intricate behavior on display which is an engrossing and relaxing safari experience. "Zimbabwe offers spectacular Natural Wildlife that only a small percentage of people in the WORLD will ever see in their lifetime" – Kaz Dube.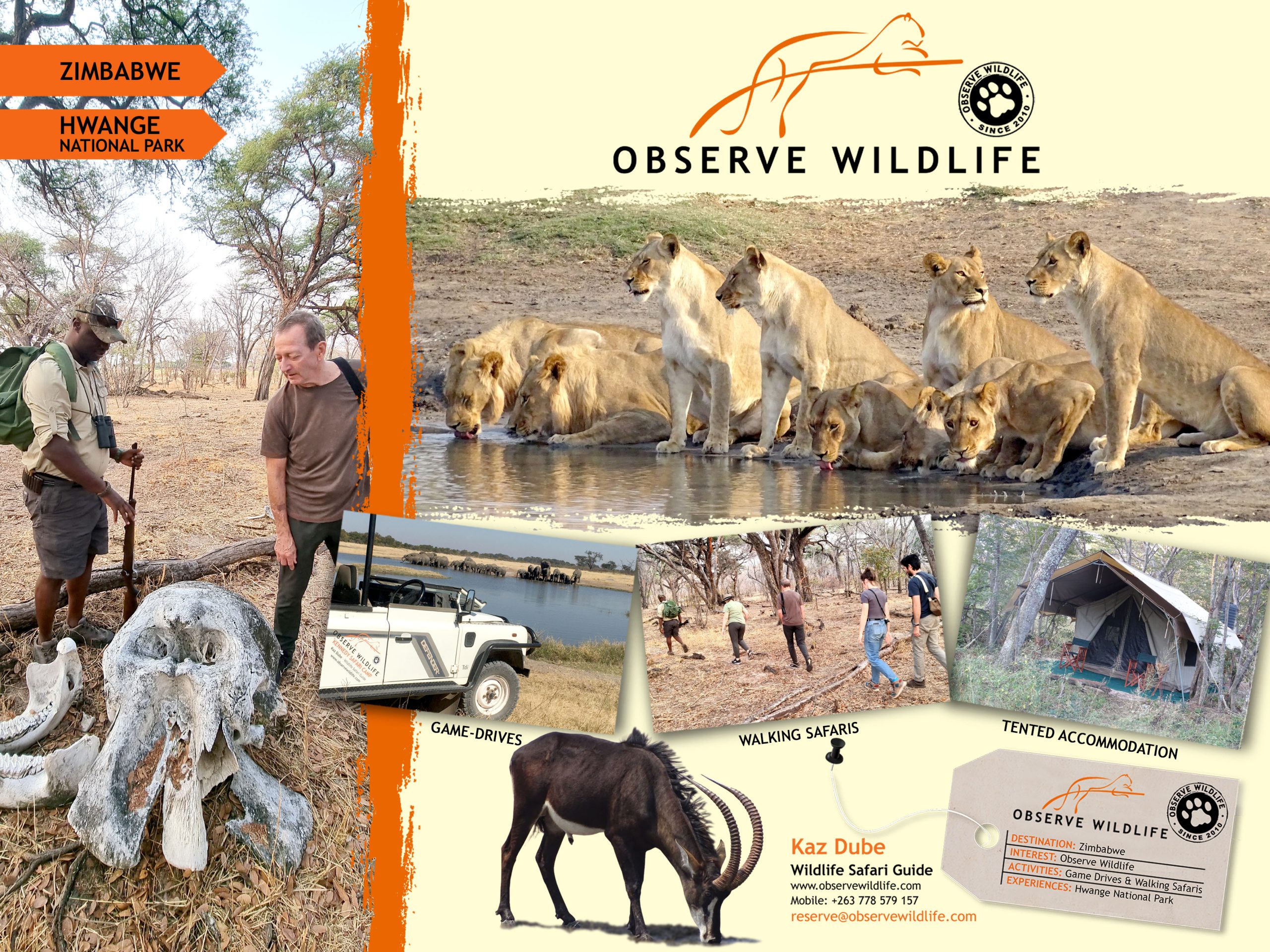 TOP-NOTCH SAFARI GUIDING BY KAZ DUBE IN HWANGE NATIONAL PARK
OBSERVE WILDLIFE will conduct a masterclass safari for you to observe wildlife inside the pristine environment of Hwange National Park. The aim of OBSERVE WILDLIFE is to guide, reveal and expose the intricate natural wildlife interactions inside Hwange National Park. You will spend considerable time with each particular mammal specie and the Wildlife Safari Guide, Kaz Dube will share an increased amount of information about the animal being observed so as to greatly enhance the wildlife experience. The interaction of animals with the environment in which they function produces the all important wildlife behavior. Without animals, no behavior is possible or available to observe. Without an environment which provides the stimulation and the context, no behavioral response can be displayed and observed. The pristine Hwange National Park provides us the environment which is the stimulus. The 400 bird species and 100 mammal species naturally domiciled inside Hwange National Park are the safari protagonists that need the stimulation. A safari with OBSERVE WILDLIFE seeks to connect and immerse you into the awe-inspiring response to the environment by the animals. Your Wildlife Safari Guide, Kaz Dube is committed and extremely passionate about enhancing your wildlife experience by sharing intense and extensive information while you are guided to interact with and observe wildlife.
TAKE A LOOK INTO THE OBSERVE WILDLIFE SAFARI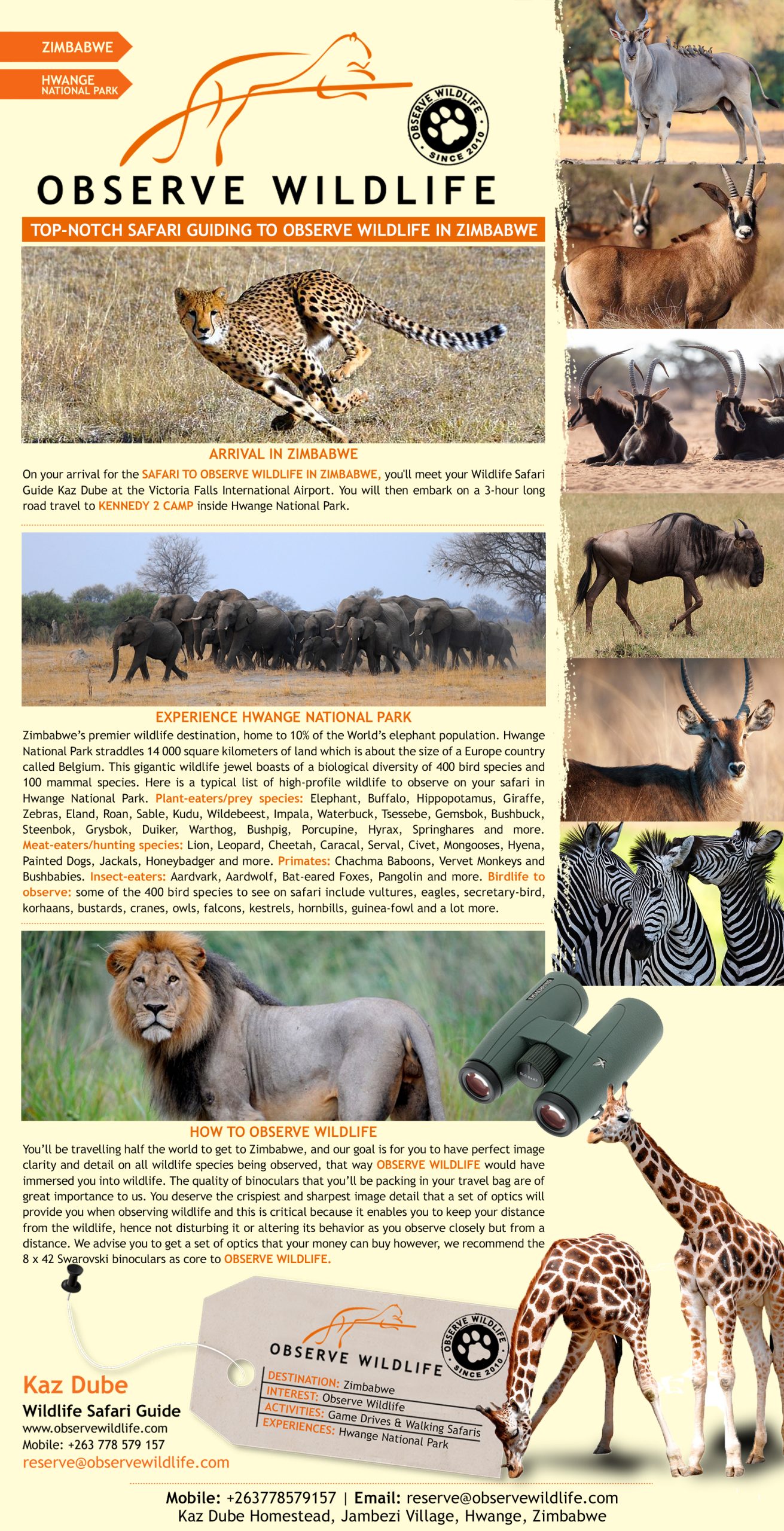 UNDERSTAND YOUR SAFARI DESTINATION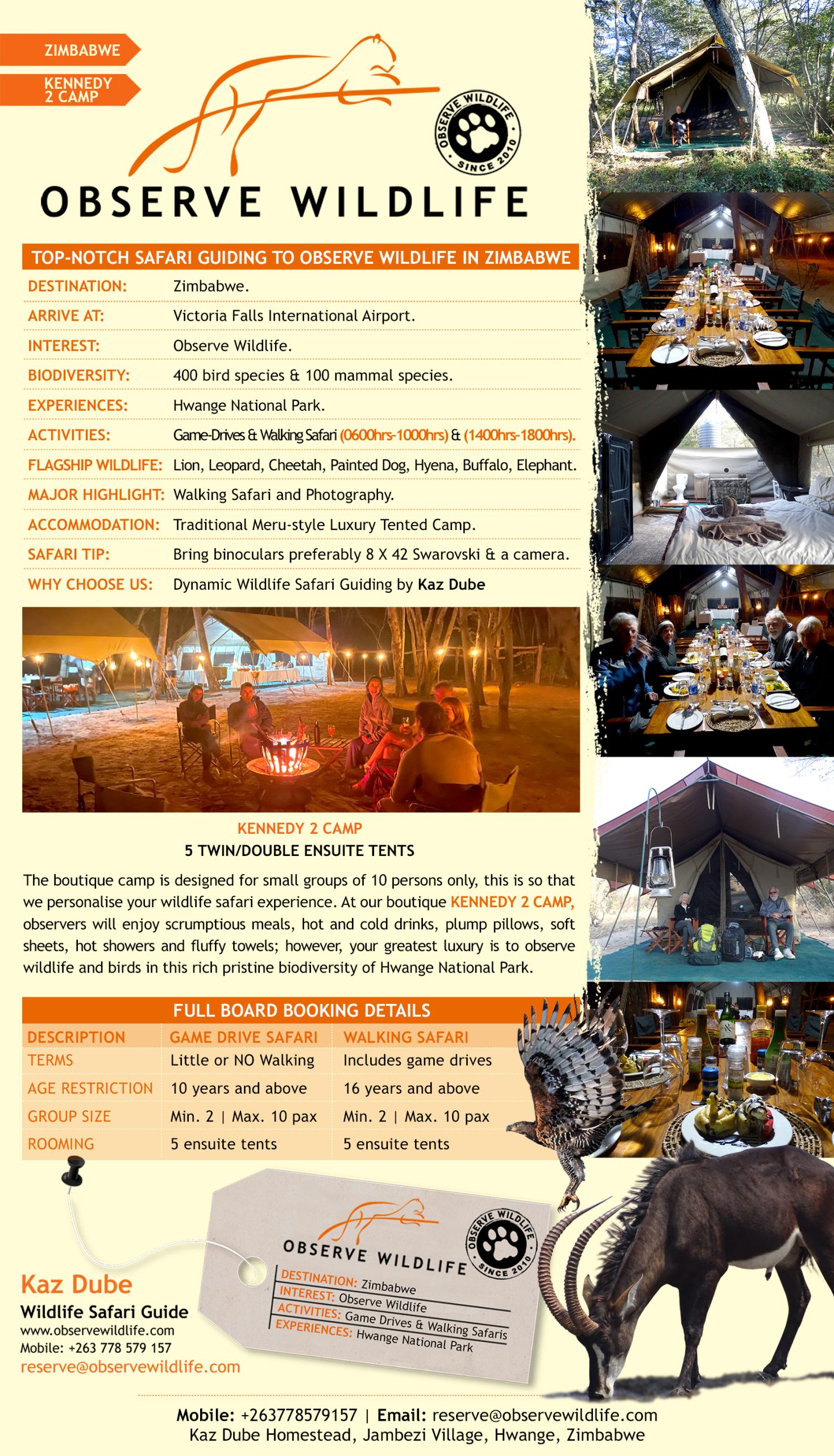 PERFECT IMMERSIVE SAFARIS FOR EVERYONE
OBSERVE WILDLIFE guides you on a quintessential safari where you are immersed to observe the fascinating natural selection behavioral processes in wildlife. The Wildlife Safari Guide, Kaz Dube, interprets in real life the Age-old theme of the hunter and the hunted while you observe breathtaking wildlife survival activities on display. You will observe the stunning dominance combats and masses of wildlife in this great magical savanna known as Hwange National Park in Zimbabwe. We want you to observe the heartbeat of Africa that is, our wildlife. Guided daily game-drives and walking safaris are the lifeblood of OBSERVE WILDLIFE.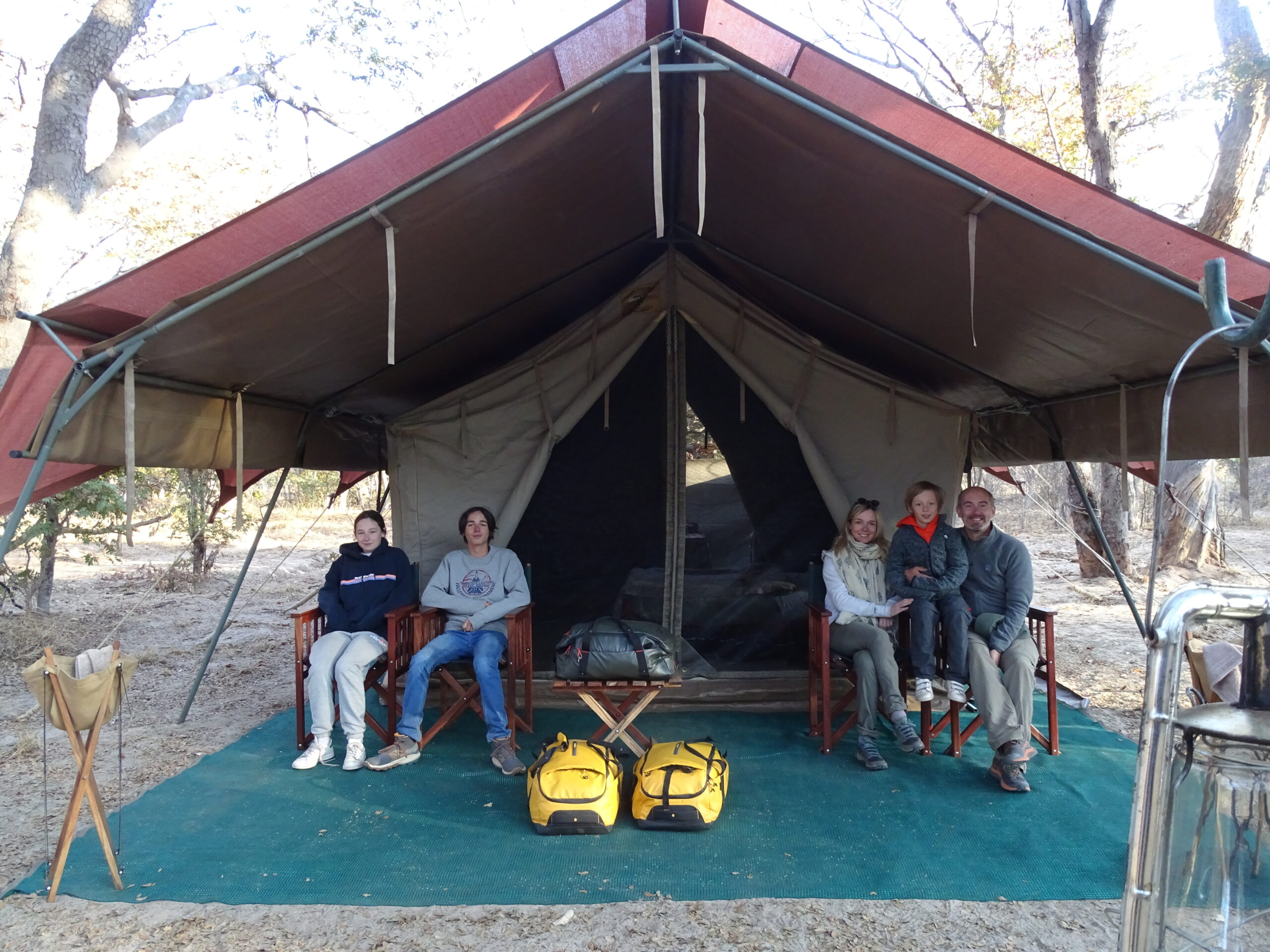 FAMILY SAFARIS
BUSY schedules and scattered lives that fill up most days throughout the year often make it difficult for families to spend quality time together. Putting aside the typical day-to-day commitments and responsibilities to be present for each other on a wildlife safari trip conducted in Africa is the best way to bond and become a closer family unit. Make lasting memories as you collaborate together on a family safari. Deepen and foster robust multi-generational connections as you observe wildlife. Create lifelong memories beginning before the safari while the family talks and plans the safari. A family safari is important, meaningful and beneficial because it incorporates everyone and all ages.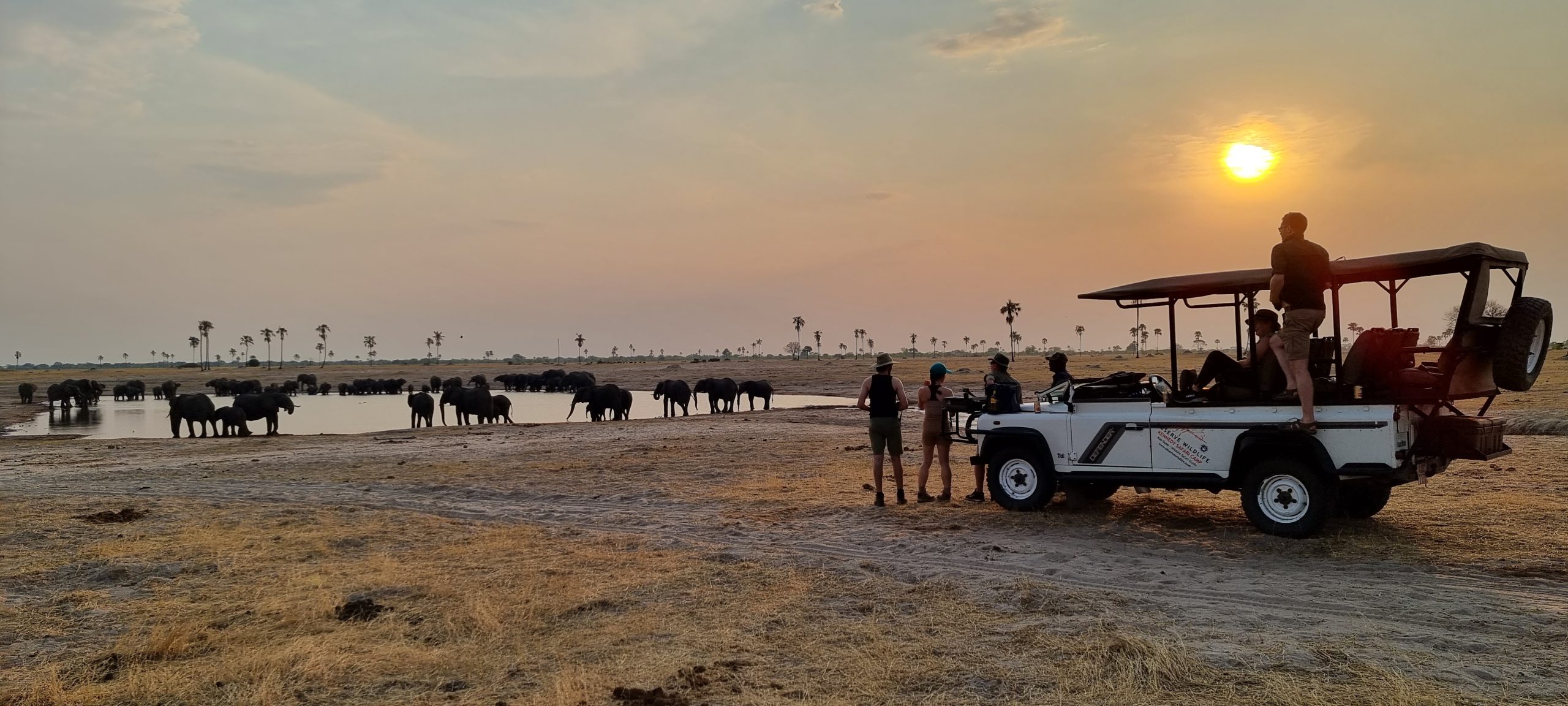 GAME DRIVES
OBSERVE WILDLIFE offers a game drives safari for you to enjoy a perfect multi-generational family bonding time. This is a superb opportunity for a family comprising grandparents, children and grandchildren to spend quality time together immersing in the pristine wildlife inside Hwange National Park. Great stories are told, memories are created and it is a unique family reunion spent sharing spectacular wildlife sightings in a secluded and exclusive camp. The experience is personalized and enhanced by exceptional safari guiding conducted by our top Wildlife Safari Guide, Kaz Dube. A game-drives safari points to the fact that perhaps the grandparents or grandchildren may be unable to participate in walking safaris for various reasons hence the focus on game-drives to observe spectacular wildlife.

WALKING SAFARIS
OBSERVE WILDLIFE conducts passionate and informative walking safaris which will get you into close-up positions to observe, smell, listen, photograph and enjoy wildlife up close and personal inside Hwange National Park. Walking safaris are combined with game drives and, often they are simply interactive walking approaches towards high profile mammals that include elephant, buffalo, lion, cheetah, painted dogs and hyenas. During the walking safaris to observe wildlife, the Wildlife Safari Guide, Kaz Dube shares meaningful interpretation of the behavior and survival traits of the diverse mammals, birds and plants encountered on safari. You'll be guided to walk, approach and observe high profile wildlife on foot. A walking safari is the purest form of activity to observe wildlife up close and releases you from the constraints of a vehicle. The inborn astuteness and acuteness of wild animal senses needed for their survival in the wilderness requires for great skillfulness and awareness from the Wildlife Safari Guide to steer inquisitive tourists into safe, close-up positions to observe wildlife. Walking safaris are a privilege to go deeper into the untamed wilderness and explore secrets of wildlife.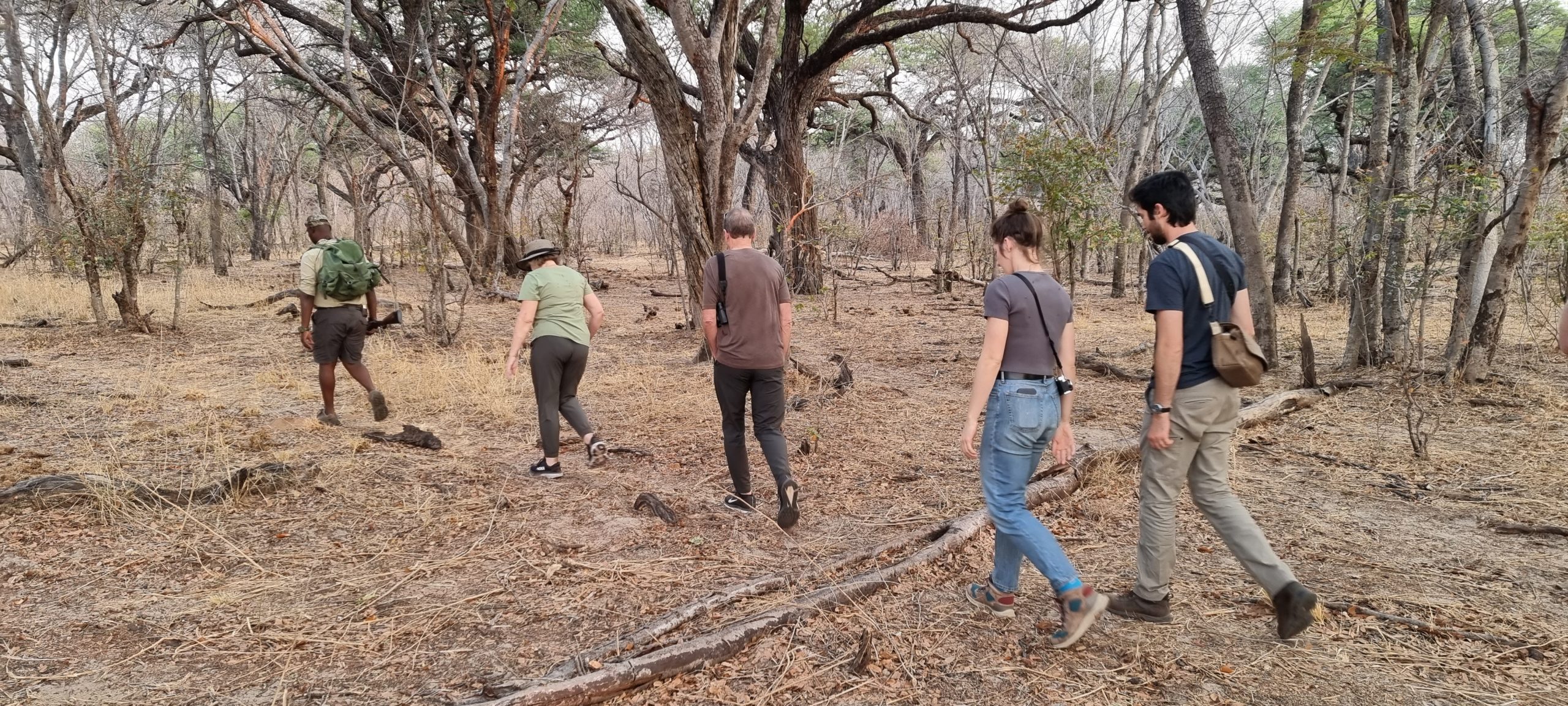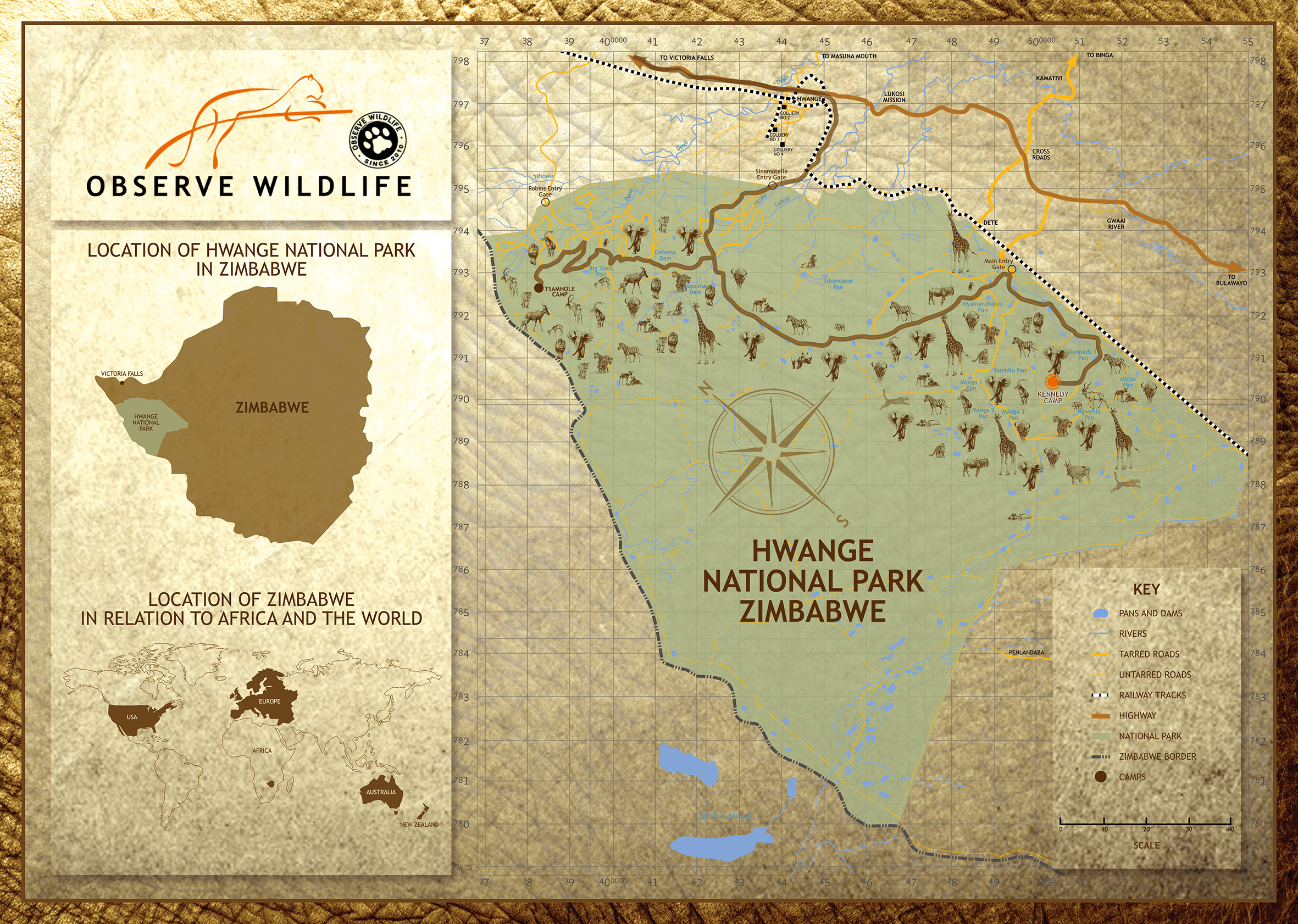 KENNEDY 2 CAMP
LOCATION GPS COORDINATES: 35K 0508523 | 7903005
The KENNEDY 2 CAMP is tucked under an overstory or canopy of a distinctive forest of the protein-rich acacia known as the Camel Thorn (Acacia erioloba) alongside the dense and impressive Zambezi Teak (Baikiaea plurijuga). The camp lies seven hundred metres from the famous KENNEDY 2 watering hole which is well-known for its massive congregation of a diverse wildlife jostling for a drink to quench their thirst. OBSERVE WILDLIFE has got traversing rights throughout Hwange National Park with easy access to flagship wildlife dominated watering holes such as Mbiza pan, Ngwehla pan, Kennedy 1 pan, Makwa pan, Nyamandhlovu pan and the list is endless. We have access to 15-kms of a vast forest around our KENNEDY 2 CAMP packed with elephants and a wide range of mammal species. The area is home to a territorial pride of thirty-five lions. For an avid adventurer this is perfect for walking safaris and game-drives to observe and photograph wildlife.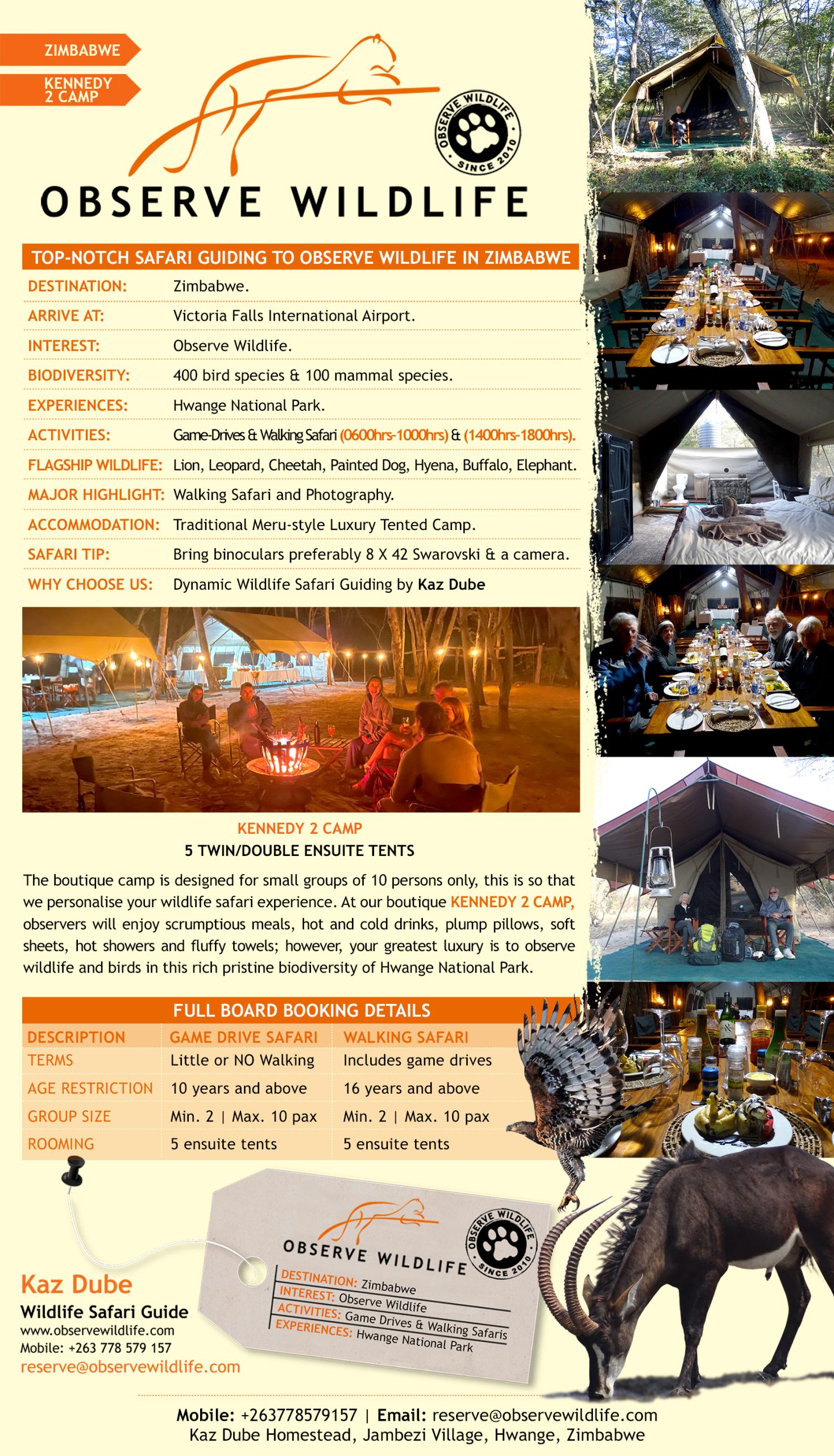 HISTORY OF KENNEDY 2 WATERING HOLE
Our

KENNEDY SAFARI CAMP
is named after the KENNEDY 2 watering hole. When Zimbabwe then Southern Rhodesia was under British rule, Sir JOHN NOBLE KENNEDY was appointed the Governor of Southern Rhodesia by the Queen of England from 1947 to 1953 during which time the KENNEDY 1 & 2 watering holes where named after him for his involvement in the conservation of wildlife in Hwange National Park which is formerly known as the Wankie Game Reserve since its establishment in 1928 by its Founder Mr. Ted Davison.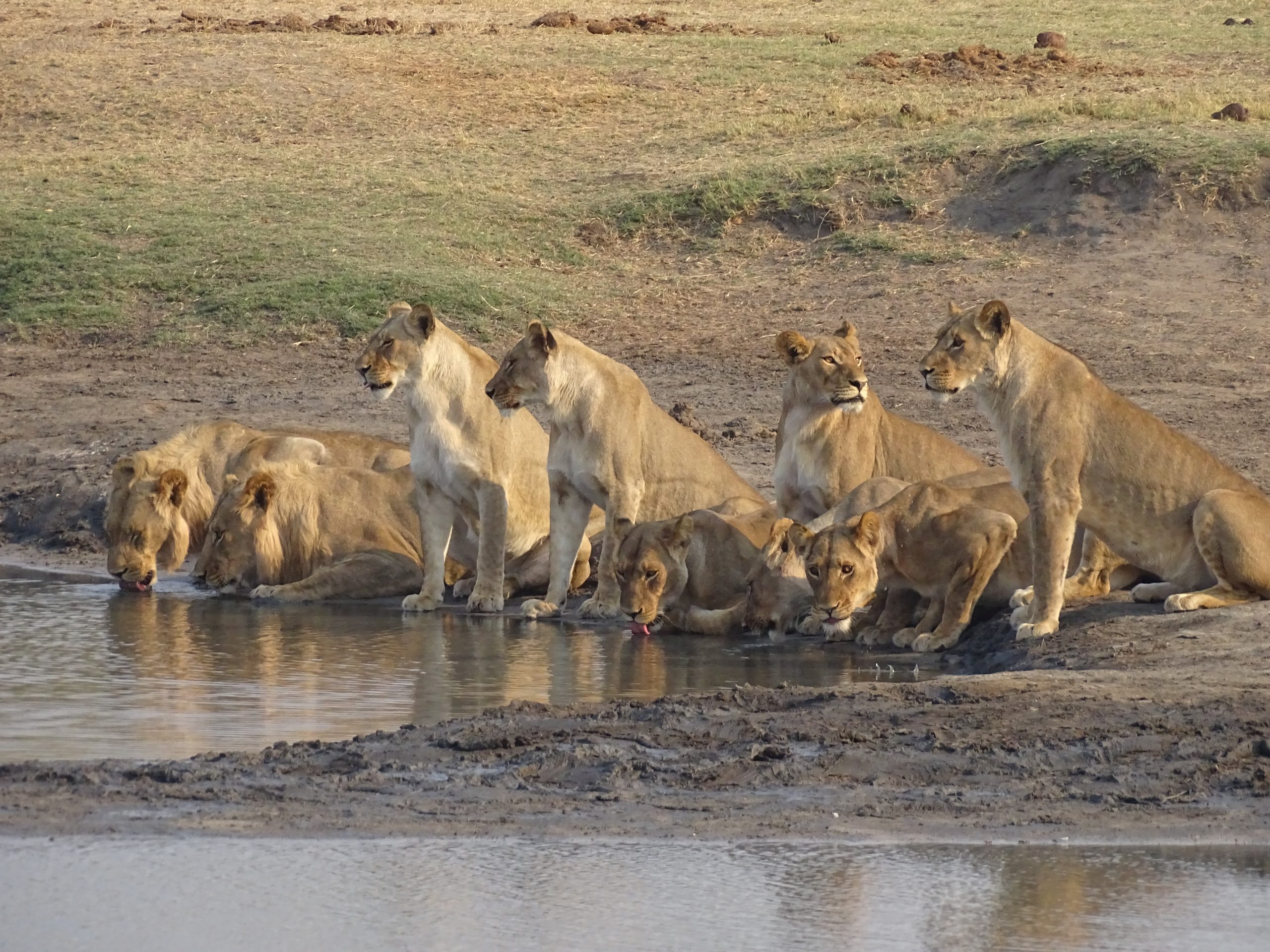 WHY CHOOSE US.
We have designed a traditional, authentic and timeless wildlife experience akin of yesteryear explorers. We have made sure to avoid crowds and eliminate unnecessary artificial opulence so as to create a raw, rustic comfort safari camp exuberating a thrilling adventure with a focus to observe wildlife. We have gone for remoteness, space, purity and the uninhibited natural beauty. EXCLUSIVE: the whole intimate, boutique 10-bed Meru-style tented camp belongs to you, your friends and family during the safari. PERSONALIZED: we focus on your specific wildlife interests narrowing every detail to your expectation. UNSURPASSED GUIDING: Kaz Dube is a highly experienced and passionate Wildlife Safari Guide. You will learn a lot about wildlife being observed with information delivered in a simple but entertaining manner.
Contact details:
Phone: +263778579157
Email: reserve@observewildlife.com
3887 Crowhill Views
P.O. Box BW 572
Borrowdale
Harare
Give us a call or email anytime, we endeavour to answer all enquiries within 24 hours on business days.